12 June 2018 – On 20 June, the European Parliament will make its decision regarding the Copyright Directive, symbol of a new era of Internet regulation. La Quadrature is calling on you to call the Members of European Parliament and demand they act against automated censorship in the name of copyright protection and, more broadly, against centralisation of the Web.
To understand the complex ruling which will take place on 20 June, we first need to revisit the basics of the regulation of content distributed over the Internet.
An Uncertain Equilibrium
The eCommerce Directive, adobted by the European Union in 2000 laid down the foundations for content regulation on Internet. It created the following principle: if you host and distribute text, images, or videos provided by third parties and if this content is illegal (because of copyrigt infrigment, sexist or racist content, apology of terrorism, etc.), you are not accountable. This lack of accountability however requires two things: that you did not have an active role in the distribution of the content (organising the content to promote some of it, for example) and that, if a content is reported as "illicit", you remove it "promptly". If you fail to respect those conditions, you can be considered as the publisher of the content.
This equilibrium, of a particularly uncertain nature – evaluating "illicit" and "promptly" has proven to be difficult –, has applied indiscriminately to all hosters for twenty years. Those who rent us server space to host and distribute our websites (the French company OVH is a good example); forums and wikis where we share our experiences and knowledge; the non-centralized networks such as Mastodon or PeerTube; and, of course, the giants of the Web – Facebook, YouTube and others who seems to have locked in their hands the majority of our public exchanges.
This equilibrium progressively fell appart as these giants gave up on the idea of nemaining neutral: assuming nowadays their active role, they prioritize all the content that they distribute according to economic criteria (highlighting the advertisements of those who pay them, as well as the content that will make us stay longer on their platforms), or political criteria (Facebook for example has a strong censorship policy towards nudity).
In theory, as we have seen, this generalized filtering of the public debate – which often rests on automatically applying economic and political criteria – should make them accountable for all the content they distribute. In practice, however, one can understand why this principle isn't really applied: it would encourage these giants to censor all potentially illegal speech, drasticly limiting the capacity of self expression of the millions of people who still use, more or less willingly, these platforms to engage in the public debate. The law thus appears here to be imperfect: too strict in theory to be put into practice.
Automatic Filtering
In September 2016, to address part of this problem, the European Commission proposed a "Copyright directive".
Article 13 of this text aims to create new rules for big content providers, those who distribute "large amounts of works". These providers would have to enter into agreements with the copyright holders of the works they distribute, in order to define how to share the revenue (from advertisment or subscriptions) with them or take measures to prevent the distribution of content signaled by copyright holders.
The text mentions "effective content recognition technologies", clearly refering to Content ID which has been deployed on Youtube for 10 years – a tool that enables Google to automatically identify the works published on their site so their rightsholders can prevent or allow their distribution (and if so, in return of remuneration).
The Commission's proposals must face the same criticism than those made to YouTube for years: they delegate the subtleties of regulation on automated tools, presented as miracle solutions. Ignoring all the subtleties of human behaviour, these tools censor anything and everything depending on technical bugs, miscalibrated criteria and absurd rationales, and prevent at the same time the legitimate exercise of copyright exceptions (right to quote, parody, ...).
To comprehend the importance of this debate, one should understand that automated filtering is already widely deployed and praised by Facebook or Google, beyond the matter of copyright, to fight against any type of illegal content, or so they claim. Many governments are also tempted to follow this path.
The Copyright directive must not legitimate and generalise this technological solutionism that automates our social relationships and treats humans as mere machines controlled by a few private companies. Instead, the current debate should be an opportunity to limit how the giants of the Web use it and to deny the control they hold onto our world.
A New Distinction
On 25 May, the European Union's Member States declared their position on the Copyright Directive. This position includes a crucial amendment which clearly creates a new category of actors, i.e any person who, while hosting and distributing a large number of works, organises and promotes them for profit – that is, they have an "active role" in their presentation.
This new category is being implemented to circumvent the protection offered by the "eCommerce" directive of 2000, all the while not being threatened by systematic liability regime. Thus, it is an intermediate category, between "all" and "nothing", which could potentially solve numerous problems that have arisen in the past twenty years or so. Let us call "platforms" this new category of actors. While the term is both generic and vague, practice and official discourses seem to coalesce around it.
The position of the Members States is that these platforms should be responsible for the works they distribute without the authorization of rightsholders, if the platforms did not set up a system which – proportionately to their capacities – could have prevented their distribution. The idea of automated filtering such as "Content ID" is not set aside but its use is less explicitely suggested.
For its part, the European Parliament will declare its position on 20 June, through the committee on Legal Affairs (JURI). After long debates, the rapporteur of the directive published proposals), as well as add a new precision: the censorship operated by the platforms should not lead to filtering content that does not breach a copyright nor should it lead to the deployment of a generalised oversight of content uploaded. The difference made with generalised automated filtering is slowly appearing more clearly. However, it is crucial that it appears explicitely in the final text, as well as a a clear threshold (of works distributed, subscribed users, etc.) in order to be certain that the mechanism will specifically deal with the issue of centralisation.
Finally, Axel Voss's proposals specify some guarantees against abusive or arbitrary censorship: a mechanism to quickly challenge the platform's decision, as well as the possibility to bring the matter before a judge in order to enforce copyright exceptions that would make the filtering unjustified. One should however go a lot further, as asking of Internet users to request a ruling from a judge to enforce their rights is too burdensome, given the unbalance between the interested parties. It would be better to turn the rules around in case a removal request is challenged: censored content should come back online when a user considers to be within their rights and it would be up to rightsholders to take things to court to obtain a final "stay down" notice, under the control of a judge.
A Disapointing Compromise
Rather than legitimise the automated regulation model on which is the basis of the power of giants of the Web, these proposals could begin to oversee it and limit its effects. But let's not rejoice too quickly: automated regulation, rather than being weakly overseen should be dismantled and banned, which isn't on the cards for now. Furthermore, the European Parliament's decision is still in the making, and could fall back onto the technological solutionism that was the at heart of so many recent decisions.
La Quadrature du Net calls on you to call the MEPs until 20 June included to demand:
- that new obligations regarding copyright only affect hosters who organise content with a for-profit goal and who reach a certain clearly determined threshold;
- that these new obligations never turn into automated filtering, which must be clearly forbidden;
- that the responsibility to take matters to court to enforce one's rights in the case of a removal request fall onto rightsholders and not Internet users.
If the text settles on this compromise, the worst might be avoided, but this Copyright directive will still be a failure, as once again the debate focused on repressive and retrograde measures when it was initially intended to provide thought on the balance needed in copyright in the digital age. This ambition was abandonned with the European Parliament's rejection of the proposals, which were already lighter than La Quadrature du Net's proposals for copyright reform.
A New Balance
As said, this debate goes far beyond copyright. It concerns the overall regulation of hosters, in the fight against "fake news", against the spread of hate, against terrorist propaganda, etc., which we see discussed more and more. It concerns the way each and everyone of us can take part in the public debate, to express ourselves as much as to access information.
All these challenges have a common enemy: centralisation of the Web, which has locked the vast majority of Internet users under one-way, rigid rules that don't care much for the quality, the tranquility or relevance of our exchanges, and only exist for a few companies' search for profit.
One of the main causes of this centralisation is the legal difficulty that has long made the existence of its cure, non-centralised hosters, precarious. Not supporting themselves financially by mas surveillance and regulation, they can't take the risk of expensive lawsuits in case of a failure to "promptly" remove each "unlawful" content they wouldd be informed of. Hosters which, most of the time, can barely take the risk of existing.
The necessary condition for the development of such services is for the law to, at last, stop imposing on them rules which for twenty years have been thought out for nothing but a few giants. Creating a new category for them offers the hope of freeing the non-centralised Web from the absurd legal framework into which judges and lawmakers have slowly trapped it in.
21 mai 2018 - Depuis plus d'un mois, nous vous invitons à rejoindre les 12 plaintes collectives contre les services des GAFAM. Aujourd'hui, nous vous proposons de rédiger ces plaintes avec nous. Pour laisser le temps aux retardataires de nous rejoindre, nous déposerons la plainte le lundi suivant l'entrée en application du RGPD : le 28 mai.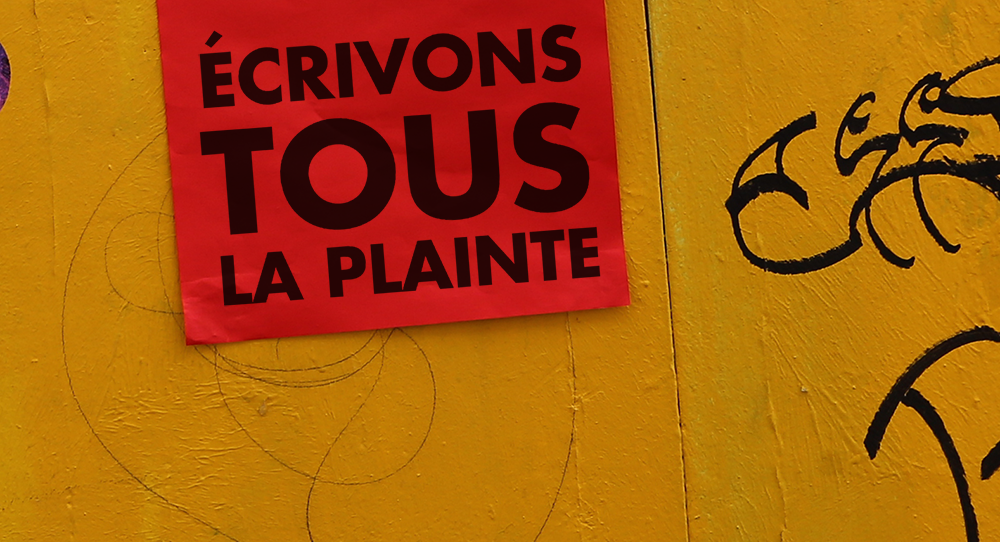 Les plaintes se concentrent volontairement sur une poignée d'arguments ciblés autour des notions de consentement et de surveillance économique. Le projet de plainte que nous publions aujourd'hui reflète ce cadrage : les arguments sont précis et assez courts. De quoi inciter à participer celles et ceux pour qui les nouages juridiques aussi complexes que rigolos ne sont pas un passe-temps relaxant !
Que vous passiez relire l'orthographe et la grammaire, que vous proposiez des reformulations de style ou bien carrément de nouvelles sources ou arguments juridiques, votre participation sera grave la bienvenue ! Votre participation sera aussi une occasion de plus de rendre ces plaintes pleinement « collectives », d'un bout à l'autre !
Venez sur notre pad de rédaction des plaintes.
Merci de faire tout ça avec nous ! <3
18 mai 2018 - Cette semaine, nous sommes allés à la rencontre de Julie, qui a travaillé pour une entreprise chargée d' « améliorer » le fonctionnement de Cortana, l'assistant vocal de Microsoft, en écoutant une à une diverses paroles captées par la machine (volontairement ou non).
Nous partageons ici son témoignage édifiant, en vidéo ainsi qu'à l'écrit (en fin d'article).
Comme nous le rappelle Antonio Casilli ci-dessous, ce récit souligne exactement les pratiques très « humaines » que l'on retrouve en masse sous les miroirs trompeurs d'une soi-disant « intelligence artificielle ».
Contre l'emprise des GAFAM sur nos vies, signez les plaintes collectives sur gafam.laquadrature.net
Les humains derrière Cortana, par Antonio Casilli
Antonio Casilli, membre de La Quadrature du Net, est maître de conférences en Digital Humanities à Telecom ParisTech et chercheur associé en sociologie au Centre Edgar-Morin, Ecole des Hautes Etudes en Sciences Sociales, Paris. Voir son site.
Qui écoute vos conversations quand vous utilisez un assistant vocal comme Cortana ? Qui regarde vos requêtes quand vous utilisez un moteur de recherche comme Bing ? « Personne », vous assurent les concepteurs de ces dispositifs, « ce sont des machines ». La réalité est toute autre, comme l'atteste ce témoignage : une jeune femme qui, sans contrat de travail et sans aucun accord de confidentialité, a retranscrit des milliers de conversations privées, recherches d'information, noms et coordonnées personnelles de personnes utilisant des produits Microsoft.
Son métier ? Dresseuse d'IA.
Malgré les allégations de leurs producteurs, les assistants virtuels qui équipent les enceintes connectées trônant dans nos salles à manger ou qui se nichent jusque dans nos poches, installés sur nos smartphones, ne naissent pas intelligents. Ils doivent apprendre à interpréter les requêtes et les habitudes de leurs utilisateurs.
Cet apprentissage est aidé par des êtres humains, qui vérifient la pertinence des réponses des assistants virtuels aux questions de leurs propriétaires. Mais plus souvent encore, ces êtres humains « entraînent » les dispositifs, en leurs fournissant des données déjà préparées, des requêtes avec des réponses toutes faites (ex. « Quelle est la météo aujourd'hui ? » : « Il fait 23 degrés » ou « Il pleut »), des phrases auxquelles ils fournissent des interprétations (ex. savoir dans quel contexte « la flotte » signifie « un ensemble de navires » ou « la pluie »).
Ces dresseurs d'intelligences artificielles sont parfois des télétravailleurs payés à l'heure par des entreprises spécialisées. Dans d'autres cas, ils sont des « travailleurs à la pièce » recrutés sur des services web que l'on appelle des plateformes de micro-travail.
Celle de Microsoft s'appelle UHRS et propose des rémunérations de 3, 2, voire même 1 centime de dollar par micro-tâche (retranscrire un mot, labelliser une image…). Parfois les personnes qui trient vos requêtes, regardent vos photos, écoutent vos propos sont situés dans votre pays, voire dans votre ville (peut-être vos voisins d'en bas ?). D'autres fois, ils sont des travailleurs précaires de pays francophones, comme la Tunisie, le Maroc ou Madagascar (qui s'est dernièrement imposé comme « leader français de l'intelligence artificielle »
Les logiciels à activation vocale tels Cortana, Siri ou Alexa sont des agents conversationnels qui possèdent une forte composante de travail non-artificiel. Cette implication humaine introduit des risques sociétaux spécifiques. La confidentialité des données personnelles utilisées pour entraîner les solutions intelligentes est à risque. Ces IA présupposent le transfert de quantités importantes de données à caractère personnel et existent dans une zone grise légale et éthique.
Dans la mesure où les usagers des services numériques ignorent la présence d'êtres humains dans les coulisses de l'IA, ils sous-estiment les risques qui pèsent sur leur vie privée. Il est urgent de répertorier les atteintes à la privacy et à la confidentialité associées à cette forme de « digital labor », afin d'en estimer la portée pour informer, sensibiliser, et mieux protéger les personnes les plus exposées.
Témoignage complet de Julie
J'ai travaillé comme transcripteuse ('transcriber') pour améliorer la qualité de la version française de Cortana, "votre assistante personnelle virtuelle" proposée par Microsoft. Je travaillais en télétravail pour une entreprise chinoise qui avait Microsoft pour client. J'ai commencé en Avril 2017 et arrêté en Décembre 2017.
J'ai pu constater directement le type de données que Microsoft collecte via son petit monstre Cortana, car les données audio qu'elle collectait passaient entre nos mains (et nos oreilles !) pour analyse et correction.
Microsoft, voulant améliorer les capacités de compréhension de Cortana, collectait les données des utilisateurs 'consentants'. Donc, quand ces utilisateurs s'adressaient à Cortana, celle-ci collectait, enregistrait ce qu'ils disaient. Ensuite, Microsoft récupérait tout ça, envoyait une partie des enregistrements à la compagnie pour laquelle je travaillais, et celle-ci mettait le tout sur notre plate-forme de télétravail.
Les transcripteurs se connectaient, et écoutaient un par un les enregistrements. Les pistes étaient généralement très courtes, entre 3 et 15 secondes en moyenne (mais pouvaient parfois durer plusieurs minutes). En fonction des projets sur lesquels on travaillait, on devait réaliser entre 120 et 170 transcriptions/heure. Plusieurs milliers de pistes étaient déposées quotidiennement sur notre plate-forme.
On écoutait l'enregistrement audio, ensuite un texte s'affichait, nous montrant ce que Cortana avait compris et retranscrit. Notre travail était de vérifier si elle avait bien compris - si ce n'était pas le cas, on devait corriger le texte, la moindre faute de compréhension, de conjugaison ou d'orthographe. Une autre partie du travail consistait à ajouter des tags dans le texte signalant les événements sonores qui pourraient expliquer pourquoi Cortana avait mal compris ceci ou mieux compris cela.
Je n'ai pas le détail de la suite du processus, mais j'imagine qu'ensuite, les données que nous corrigions étaient envoyées à une équipe de techniciens, programmeurs et autres génies de l'informatique qui s'occupaient de faire comprendre à Cortana comment ne pas répéter les mêmes erreurs.
Je me demandais à chaque fois si ces gens avaient conscience qu'une personne extérieure allaient entendre leurs petits délires sexuels
Les données qu'on écoutait allaient d'Utilisateur A qui dit simplement "Hey Cortana, quelle sera la météo demain?" à Utilisateur B qui demande en chuchotant à Cortana de lui trouver des vidéos porno de telle ou telle catégorie...
Il y avait leurs recherches internet, leurs interactions directes avec Cortana ("Hey Cortana, raconte-moi une blague", "imite la poule", "est-ce que tu m'aimes?", "est-ce que tu ressens la douleur?"…). Les utilisateurs peuvent aussi dicter du texte : messages, documents texte (résumés de cours, comptes-rendus professionnels...), adresses GPS, courriers administratifs (avec par exemple leur numéro de sécurité sociale), etc. ; nous avions accès à tout ça.
Elle peut être connectée à des consoles Xbox, on avait donc aussi des enregistrements provenant de ce service-là. Il y avait notamment des morceaux de communication en ligne (principalement d'ados et d'enfants) qui discutent sur les jeux en réseaux.
On avait également de nombreux extraits de conversations en ligne, sûrement sur Skype, provenant de personnes qui utilisaient un service de traduction instantanée (Microsoft Translator mais peut-être aussi Skype Translator, je ne suis pas certaine).
Nous n'avions jamais l'intégralité des conversations évidemment, elles étaient découpées en petites pistes ; cependant on pouvait tomber sur plusieurs morceaux d'une même conversation dans une même série de transcriptions (c'était suffisant pour dresser un profil basique de l'utilisateur ou de son humeur du moment par exemple).
On avait des conversations diverses, vraiment toutes sortes de choses, notamment souvent les séances sexcams de certains utilisateurs qui avaient besoin d'un service de traduction pour se faire comprendre, et dans ces cas-là les transcriptions étaient très explicites (parfois amusantes, parfois glauques). Je me demandais à chaque fois si ces gens avaient conscience qu'une personne extérieure allaient entendre leurs petits délires sexuels. Cortana ne fait pas le tri...
Enfin, il y avait beaucoup d'enregistrements involontaires, où des personnes discutent entre elles (dans leur voiture, à la maison, avec leurs enfants sur le chemin de l'école...) tandis que Cortana est dans les parages (tablette, téléphone portable, ordinateur, etc.) et s'est déclenchée de manière non-sollicitée et a tout enregistré.
(D'ailleurs, on avait aussi beaucoup d'utilisateurs qui insultaient tout simplement Cortana, car elle s'était déclenchée de façon non-sollicitée, ou avait mal compris une requête... Vous n'imaginez pas le nombre de fois où j'ai entendu "Sale pute Cortana !" )
On avait ainsi accès à énormément de données personnelles, que ce soit des bribes de conversations privées en ligne ou bien hors ligne.
N'importe qui pouvait être engagé
Pour pouvoir être embauché (ils recrutaient en grand nombre), il fallait s'inscrire sur le site de l'entreprise, postuler puis suivre une formation en ligne conclue par un examen final. Si on avait un pourcentage de réussite satisfaisant, on était engagé. Auquel cas, le manager nous faisait créer un compte sur le site internet de télétravail (une plate-forme externe, utilisée par plusieurs compagnies comme celle qui m'avait engagée), et le travail commençait.
Il n'y avait pas besoin d'envoyer son CV, ni aucun entretien individuel avec un responsable ou un manager (ni par téléphone, ni par Skype, ni e-mail, rien). N'importe qui pouvait être engagé et avoir accès aux enregistrements du moment qu'ils en avaient les compétences techniques, que l'examen final avait été réussi. Pourtant, nous avions accès à des informations sensibles et personnelles.
Beaucoup de personnes ignorent ou oublient que les données collectées par Cortana (et autres outils du genre) ne sont pas uniquement traitées par des robots, mais bien aussi par des êtres-humains.
En m'inscrivant sur le site de l'entreprise, j'ai accepté ses conditions d'utilisations en cochant machinalement des petites cases, celles-ci parlaient d'une multitudes de choses, mais à ce que je me souviens il n'y avait pas d'emphase spéciale sur le respect de la vie privée des utilisateurs de nos clients. Et à aucun moment j'ai signé de ma main un contrat de confidentialité.
Ils m'ont pourtant bien demandé de signer et renvoyer un document relatif aux taxes et impôts ; ils auraient pu en faire autant pour le respect de la confidentialité.
Et sur plus d'une cinquantaine de pages d'instructions détaillées sur comment traiter les transcriptions, pas une seule ligne ne mentionnait le respect de la vie privée des utilisateurs. Pas un seul des nombreux e-mails du manager que nous recevions chaque semaine, rien n'a jamais été dédié au respect de la vie privée (en ligne et hors ligne) des utilisateurs.
Et ce dont je parle ici ne concerne pas uniquement les utilisateurs français de Cortana, il y avait des équipes de transcripteurs pour une multitudes de langues (anglais, portugais, espagnol, etc.). On avait le même manager et les mêmes instructions générales.
En théorie, les données étaient anonymes pour les transcripteurs, c'est-à-dire que nous n'avions jamais les identifiants des utilisateurs que nous écoutions, et les pistes étaient généralement distribuées de façon aléatoire et désordonnée, en plus d'être parfois découpées. Cependant, inévitablement il arrivait que les utilisateurs révèlent un numéro de téléphone, une adresse, des coordonnées, date de naissance, numéros importants, événements auxquels ils allaient se rendre, etc.
Certaines voix se reconnaissent facilement, et bien que les pistes étaient aléatoires et dans le désordre, mises bout à bout elles auraient dans quelques cas pu suffire à un transcripteur déterminé pour identifier un utilisateur. De plus, on travaillait tous depuis nos propres ordinateurs, il était donc facile de récupérer les enregistrements qu'on traitait si on le voulait.
Selon moi, ce n'était pas bien sécurisé, surtout quand on considère le fait qu'on avait aussi beaucoup d'enregistrements provenant d'enfants. Mais il faut comprendre que ce genre de traitement de données est de toute façon impossible à sécuriser entièrement (encore moins quand on sous-traite), car des données récoltées massivement ne peuvent pas être triées parfaitement, des informations sensibles passeront toujours.
Beaucoup d'utilisateurs se sentent dépassés par tout ça, et les GAFAM savent exactement comment en tirer parti
Enfin, j'aimerais parler du fait qu'il me semble évident que la plupart des logiciels de reconnaissance vocale et assistants virtuels doivent se construire comme Cortana, donc il est important que les gens mesurent ce qu'utiliser de tels logiciels implique (ce que j'ai décrit n'est assurément pas juste typique à Microsoft).
Avec l'affluence des nouveaux ''assistants personnels virtuels'', le champs des possibles pour la collecte de données s'est développé de manière fulgurante.
Le modèle de Microsoft (et les autres GAFAM) n'est pas basé sur le respect de la vie privée et la non-intrusion, c'est le contraire.
Les outils comme Cortana sont hautement intrusifs et ont accès à une liste impressionnante de données personnelles, qu'ils exploitent et développent simultanément.
La collecte de données qu'ils peuvent permettre peut être utilisée à votre insu, détournée, utilisée contre votre gré, tombée entre de mauvaises mains, être exploitée à des fins auxquelles vous n'avez jamais consciemment donné votre accord…
Personnaliser les paramètres de confidentialité de services de ce genre requiert parfois des compétences en informatique qui dépassent l'utilisateur amateur, et des écrans de fumée font oublier que vous sacrifiez et marchandez votre vie privée à l'aide de formules comme "personnalisation du contenu", "optimisation des résultats", "amélioration de votre expérience et de nos services".
Beaucoup d'utilisateurs se sentent dépassés par tout ça, et les GAFAM savent exactement comment en tirer parti.
Merci beaucoup à Julie pour son témoignage !
Contre l'emprise des GAFAM sur nos vies, signez les plaintes collectives sur gafam.laquadrature.net
Salut à toutes et à tous !
Voici la newsletter 78 de La Quadrature du Net !
Sommaire
Newsletter, le retour
La newsletter de La Quadrature est enfin de retour !
Pourquoi un tel silence ? L'équipe des salariés de l'association a connu une recomposition importante, après le départ de Chris et d'Adrienne à la fin de l'été 2017. Il a fallu redistribuer les rôles, prendre ses marques en tâtonnant un peu. Et puis l'automne et l'hiver ont été chargés, entre la campagne de dons (un grand merci pour votre soutien renouvelé pour une année !), l'organisation du CCC (https://www.ccc.de/en/) - nouvellement installé à Leipzig - et une actualité politique animée - grâce aux diverses lois imaginées par le gouvernement Macron et à notre nouvelle campagne pour la protection des données personnelles.
Cette newsletter présente donc l'essentiel de l'actualité de ces trois derniers mois (janvier-mars 2018), pour ceux qui nous suivent de loin. Si vous cherchez des infos plus détaillées et surtout plus fréquentes sur nos actions, le bulletin QPSTAG (Que se passe-t-il au Garage ?) est diffusé chaque semaine sur la liste discussion@laquadrature.net.
Inscrivez-vous aux listes de diffusion ici : https://wiki.laquadrature.net/Listes_de_discussion
Nouveaux membres
Le 12 mars dernier, nous avons annoncé l'arrivée de nouveaux membres au sein de l'association, avec deux objectifs : acter l'engagement de bénévoles parmi les plus proches et les plus impliqués, et ouvrir l'espace de réflexion de l'association en accueillant des compétences et des sensibilités plus diverses. La première AG de ce nouveau groupe de travail a eu lieu pendant le week-end de Pâques, du samedi 31 mars au lundi 2 avril.
Une annonce à lire ici : https://www.laquadrature.net/fr/ouverture_nouveaux_membres
Campagne de dons 2017-2018
Merci beaucoup ! Grâce à vous, nous avons rassemblé assez d'argent pour faire fonctionner l'association jusqu'à la fin de 2018. Le bilan est en ligne sur notre site. Rendez-vous à la fin de l'année pour tenter de prolonger l'action une année encore !
Le bilan de campagne à lire ici :https://www.laquadrature.net/fr/bilan_campagne_dons_2017
Données personnelles sur tous les fronts
C'est le gros sujet de ce début d'année !
Entre l'entrée en application du RGPD à partir du 25 mai, la discussion autour du projet de loi sur les données personnelles, et l'affaire Cambridge Analytica qui met à jour le modèle économique de Facebook et d'innombrables autres sociétés du web, le problème de l'exploitation illégale de nos données personnelles a connu en ce début d'année un gros regain d'intérêt dans les médias. La Quadrature du Net a participé au débat à chaque fois qu'elle en a eu l'occasion.
Données personnelles : le projet de loi
Mi-mars, le projet de loi données personnelles était au Sénat. La commission en charge du dossier a refusé d'amender le texte pour encadrer les activités des services de renseignement, malgré les obligations édictées par la directive européenne. La Quadrature du Net a donc rédigé des amendements et invité les sénateurs et sénatrices de tous bords à les soutenir. Notre appel a été entendu, et nos amendements les plus importants ont été déposés et soutenus. Un seul a été accepté, concernant le chiffrement.
Début avril, après le vote du projet de loi au Sénat, est arrivée l'heure de la commission mixte paritaire, chargée de trouver un accord entre les deux textes votés à l'Assemblée nationale et au Sénat. À la veille de ce moment important, l'Observatoire des Libertés et du Numérique (OLN), dont fait partie La Quadrature du Net, a publié une lettre adressée aux parlementaires. Elle réaffirmait les points cruciaux à nos yeux, comme le droit au chiffrement et à la portabilité des données.
La commission mixte paritaire s'est finalement séparée sans arriver à un accord. Le texte repart donc pour une nouvelle navette entre les deux chambres.
Invitation à soutenir nos amendements au Sénat : https://www.laquadrature.net/fr/pjl_rgpd_senat_com
Nos amendements (PDF) : https://www.laquadrature.net/files/amendements_lqdn_pjl_rgpd_27_02_2018.pdf
Lettre ouverte de l'OLN aux membres de la CMP : https://www.laquadrature.net/fr/cmp_pjl_rgpd

Action de groupe contre les GAFAM
Le RGPD entre en application le 25 mai, mais nous avons des doutes sur le fait qu'il soit bien appliqué comme il se doit. Est-ce que des entreprises comme Facebook ont vraiment l'intention de cesser cette surveillance de masse dont elles tirent tous leurs profits ? On en doutait alors on a pris les devants. Le 16 avril, on a lancé une campagne visant à récolter un maximum de mandats pour mener UNE ACTION DE GROUPE CONTRE LES GAFAM !!! La CNIL pourra, à partir du 24 mai, sanctionner à hauteur de 4% du chiffre d'affaires mondial mais si on veut qu'elle agisse il faut qu'on soit nombreux à rejoindre l'action de groupe.
Rejoignez l'action : gafam.laquadrature.net !!!!
Sur le site vous trouverez chaque semaine une vidéo expliquant pourquoi on attaque chacun des GAFAM et un texte d'analyse lié.
Vous pouvez aussi créer et partager vos affiches ici : https://gafam.laquadrature.net/#poster
Rejoignez-nous dans notre action (pour rappel, les particuliers donnant mandat à La Quadrature dans le cadre de cette action de groupe ne prennent aucun risque personnel, que ce soit sur un plan juridique ou financier) et faites circuler l'information autour de vous !
Données personnelles : ePrivacy
Certaines dispositions du RGPD, protectrices pour les utilisateurs, gênent beaucoup les entreprises privées qui prospèrent actuellement sur l'exploitation de nos données personnelles. Certaines d'entre elles (publicitaires et groupes de presse en tête) ont donc écrit au gouvernement français (PDF) pour le supplier de réintroduire dans le règlement ePrivacy (toujours en discussion) des dispositions qui leur permettraient de continuer leur juteux business. « L'économie de la donnée est un pilier de la croissance, de la création d'emplois et du progrès » : le gouvernement de la « Start-up Nation » n'a pas dû être très difficile à convaincre avec de telles phrases. La Quadrature adresse à son tour une lettre ouverte aux ministres.
Un lettre ouverte à lire ici : https://www.laquadrature.net/fr/eprivacy_marchandisation
Surveillance : Marseille, ville laboratoire
La mairie de Marseille veut déployer un « observatoire Big Data de la tranquillité publique », confié à une entreprise privée : ce grand fourre-tout sécuritaire agrègera des informations venues des services de police, des pompiers, de la justice, de la sécurité routière, de la vidéosurveillance urbaine, des hôpitaux et même de la météo pour prédire les zones d'espace et de temps où des faits de délinquances sont susceptibles d'avoir lieu. Les habitants seront aussi invités à alimenter la base de données, à l'aide d'une application mobile, dans le genre de celle que lance de son côté la ville de Nice (Reporty).
Félix Tréguer, président de La Quadrature du Net et habitant de Marseille, a exercé le droit d'accès aux documents administratifs que détient chaque citoyen pour obtenir le Cahier des Clauses Techniques Particulières qui décrit le objectifs et les moyens du dispositif.
Il livre son analyse.
Une tribune à lire ici : https://www.laquadrature.net/fr/surveillance_big_data_marseille
Opérateurs téléphoniques : que savent-ils de nous ?
Les opérateurs téléphoniques collectent une grande quantité de données personnelles à travers nos téléphones (métadata de nos échanges, géolocalisation, etc.) : mais lesquelles précisément, et sont-ils prêts à le reconnaître ? Pour le savoir, quatre bénévoles de La Quadrature du Net ont écrit aux quatre grands opérateurs mobiles français (Orange, Free Mobile, Bouygues Telecom et SFR) pour leur demander l'accès, autorisé par la loi, aux données personnelles détenues par leurs fournisseurs téléphoniques respectifs. Trois mois plus tard, aucune réponse satisfaisante. Mais l'étape suivante était prévue : quatre plaintes ont donc été déposées auprès de la CNIL, une contre chaque opérateur. On attend désormais les réponses...
Une histoire à suivre, à lire ici : https://www.laquadrature.net/fr/conservation_operateurs
Au secours, les recours !
Quand une loi est votée, on peut encore la changer : il suffit de l'attaquer devant le Conseil constitutionnel – et de gagner. C'est ce à quoi s'emploient La Quadrature du Net, FDN et la Fédération FDN, dans le groupe informel des Exégètes amateurs. Mais cet hiver, deux recours devant le Conseil constitutionnel ont reçu un jugement défavorable.
D'abord, le « recours Chambord », jugement rendu le 2 février dernier : il s'agissait de rendre à tous le droit de photographier les monuments nationaux. Malheureusement, le Conseil constitutionnel a confirmé le « droit à l'image » consenti en 2016 aux gestionnaires de ces momuments. Une décision que Lionel Maurel, membre fondateur de La Quadrature du Net, analyse en détail dans ses conséquences.
Le 4 mars, le Conseil constitutionnel a rejeté le recours déposé pour contester l'obligation faite à une personne gardée à vue de remettre à la police ses clefs de chiffrement. Une décision assortie de conditions (l'aval d'un juge, en particulier), mais une déception expliquée dans notre analyse.
Décision Chiffrement : texte du recours https://www.laquadrature.net/fr/conseil-constitutionnel-clefs-chiffrement et décision du Conseil constitutionnel https://www.laquadrature.net/fr/le-conseil-constitutionnel-restreint-le-...
Décision Chambord : https://www.laquadrature.net/fr/apres-d%C3%A9cision-chambord-comment-sortir-d-un-domaine-public-residuel
FAKE NEWS, FAUX DÉBAT
Emmanuel Macron veut une loi pour interdire les « fake news », les fausses nouvelles et les manipulations médiatiques en ligne qui ont connu leur heure de gloire au moment de l'élection de Donald Trump aux États-Unis d'Amérique. La Commission européenne se pose elle aussi la question de savoir si elle peut aussi légiférer de son côté. La Quadrature du Net a donc répondu à sa consultation, pour dire non : la question des fake news est un faux problème, il s'agit avant tout d'un problème de logique économique desplateformes et des réseaux sociaux.
Une réponse à consultation à lire ici : https://www.laquadrature.net/fr/consultation_fake_news
Action contre les GAFAM
[Freenews, 16/04/2018] : https://www.freenews.fr/freenews-edition-nationale-299/presse-5/vie-priv...
[Le Figaro, 16/04/2018] : http://www.lefigaro.fr/flash-eco/2018/04/16/97002-20180416FILWWW00320-in...
[NextINpact, 16/04/2018] : https://www.nextinpact.com/news/106472-rgpd-la-quadrature-net-prepare-se...
[Univers Freebox, 16/04/2018] : https://www.universfreebox.com/article/44123/Actions-de-groupe-contre-le...
[Actu Orange, 16/04/2018] : https://actu.orange.fr/societe/high-tech/internet-la-quadrature-du-net-v...
[Le Figaro, 17/04/2018] : http://www.lefigaro.fr/secteur/high-tech/2018/04/17/32001-20180417ARTFIG...
[La Tribune, 17/04/2018] : https://www.latribune.fr/technos-medias/actions-de-groupe-la-quadrature-...
[Le Monde, 17/04/2018] : http://www.lemonde.fr/economie/article/2018/04/17/une-association-franca...
[Mediapart, 16/04/2017] : https://www.mediapart.fr/journal/international/160418/donnees-personnell...
[L'Imprévu, 17/04/2018] : https://limprevu.fr/articles/17-04-2018/aux-origines-de-la-quadrature-du...
[Numerama, 17/04/2018] : https://www.numerama.com/politique/345803-5-questions-laction-de-groupe-...
[Challenges, 18/04/2018]: https://www.challenges.fr/media/gafa/google-facebook-apple-et-amazon-sou...
[Mieux vivre votre argent, 18/04/2018] : https://www.mieuxvivre-votreargent.fr/vie-pratique/2018/04/17/une-associ...
[L'Obs, 18/04/2018] : https://www.nouvelobs.com/societe/20180418.OBS5396/l-association-la-quad...
[La Correspondance de la Presse, 18/04/2018]: https://framapic.org/hpYbJh78ydIr/dIA8yRyEgwVG.png
[La Tribune Hebdo, 19/04/2018]: https://framapic.org/x2SVesw0AXCa/cXFxuDqyKOf3.png
[L'Obs, 19/04/2018]: https://www.nouvelobs.com/monde/20180419.OBS5450/facebook-va-mettre-hors...
[Liberation, 19/04/2018]: http://www.liberation.fr/france/2018/04/19/quadrature-du-net-vers-un-rec...
[La Croix, 20/04/2018]: https://www.la-croix.com/Journal/Gestion-donnees-France-prepare-big-bang...

Loi RGPD

Facebook & Cambridge Analytica

Données personnelles

Plateformes et « fake news »

Censure et surveillance

Neutralité du net

Il existe de nombreuses façons de participer à l'action menée par La Quadrature du Net. Vous pouvez aider La Quadrature en parlant de ses publications autour de vous, et en les diffusant sur vos blogs, Twitter,Diaspora*, vos réseaux sociaux, listes de discussion… Bref, en « buzzant ».

Vous pouvez également participer à nos listes de discussion ou échanger sur notre chat (ou directement sur notre canal IRC : #laquadrature sur irc.freenode.net).

La Quadrature du Net a aussi besoin d'aide pour un grand nombre de tâches quotidiennes, par exemple pour l'édition de sa revue de presse, des traductions, la mise à jour de son wiki, des créations graphiques ou sonores… Si vous en avez la capacité, vous pouvez contribuer à améliorer les outils comme Memopol, < ahref="http://respectmynet.eu/">Respect My Net, ou le Piphone,ContrôleTes Données, ou bien nous proposer de nouveaux projets sur notre GitLab. N'hésitez pas à nous contacter pour avoir plus d'information à ce sujet.

Enfin, si vous en avez les moyens, vous pouvez également nous souteniren effectuant un don.

Mai 2018 :

The newsletter is back

Why such a long silence? The paid staff went through important changes after Chris and Adrienne left at the end of summer 2017, and the arrival of Myriam (administrator) and Marine (art and communication director). We needed time to reassign roles and find our bearings with a bit of fumbling... Autumn and winter were busy times: our support campaign (thanks again for another year of support!), the organisation of our tea-house at the CCC (now taking place at Leipzig (https://www.ccc.de/en/ ), and lively political developments - thanks to various laws conceived by the Macron government and to our new campaign to protect privacy.
This newsletter presents a summary of key points from the past three months (January-March 2018) for those following us from afar. If you're looking for more precise and frequent information about our actions, our weekly newletter in French, QPSTAG ("Que se passe-t-il au garage ?" or "What's on at the garage?") is sent out from discussion@laquadrature.net.
Subscribe to mailing-lists here: https://wiki.laquadrature.net/Listes_de_discussion/en

New members

Last 12 March, we announced the arrival of new members in the core of the association. Here are their two objectives: to engage volunteers among those closest and most involved in LQdN, and to open a space for reflection within the Association by accommodating more diverse skills and sensibilities. The first general meeting of this new taskforce took place over the Easter weekend, from Saturday, March 31 to Monday, April 2.
Read our announcement: https://www.laquadrature.net/en/node/10444

Donation Campaign 2017-2018

Thanks a lot! We have collected enough money to go forward until the end of 2018. The result is available on our site. We will meet again at the end of the year to try to keep this going for another year! \o/
Read the campaign's results here: https://www.laquadrature.net/en/Founding%20campaign%202017

Personal Data On All Fronts

Between the implementation of the RGPD from May 25, the discussion of the bill on personal data in the French Parliament, and the Facebook-Cambridge Analytica scandal that revealed Facebook's economic model to the general public: the problem of the illegal exploitation of our personal data has seen a big revival of interest in the media since the beginning of the year. La Quadrature du Net took part in the debate at every opportunity.

Personal Data: a French bill under discussion

In mid-March, the bill concerning personal data was examined in the French Senate. The commission in charge of the bill refused every amendment in the provisions regarding aiming at overseeing the activities of French intelligence services, in spite of the obligations laid down by the European directive. La Quadrature du Net wrote amendments and invited senators of both wings to defend them during the discussion. Our call was heard and our main amendments were supported. But only one of them was adopted (regarding cryptography).
In the beginning of April, after the bill was voted by the Senate, a commission was in charge of finding an agreement between the two bills voted by the Assemblée Nationale and the Senate. The day before this important meeting, the OLN (Observatoire des Libertés et du Numérique) published an open letter to members of the two chambers. It states again several points important to us, such as the right to encrypt and the portability of data.
The commission parted without coming to an agreement, and so the draft bill will go back and forth again between the two chambers.
Call for our amendments (in French): https://www.laquadrature.net/fr/pjl_rgpd_senat_com
Our amendments (PDF in French): https://www.laquadrature.net/files/amendements_lqdn_pjl_rgpd_27_02_2018.pdf
Open letter to the members of the French Parliament: https://www.laquadrature.net/fr/cmp_pjl_rgpd (in French)


Extrajudicial Class Action Against the GAFAM

The GDPR comes into effect on the 25th of May, but we doubt that it will be properly applied. Do companies such as Facebook and Google really intend to stop the mass surveillance from which they make their money? So we have decided to take pre-emptive action, and have begun collecting individual mandates in order to file a class action against the GAFAM.
French citizens are invited to join the action here: https://gafam.laquadrature.net (in French)

Personal Data : ePrivacy

Certain provisions of the GDPR which protect European citizens' private lives are a real impediment for private companies that live off the exploitation of personal data. Some of them (mainly advertising and press companies) pleaded their case with the French government and asked them to reinstate in future regulation a set of provisions allowing the safety of their profitable businesses. The government of the self-designated "Start-Up Nation" was easily convinced. La Quadrature du Net adresses its own open letter (FR) to the ministers.
Read the open letter here: https://www.laquadrature.net/fr/eprivacy_marchandisation (in French)

Marseille, A Laboratory for Surveillance

The mayor of Marseille, France's third major city, wants to build a "Big Data Observatory For Public Security" and has handed the project to a private company: this catch-all will gather information from the police, fire departments, road safety, legal bodies, CCTV, hospitals and even weather services to predict locales and times where delinquency is likely to take place. Residents of the city are also invited to feed a database through a mobile application very similar to Reporty, the app acquired by the city of Nice.
Félix Tréguer, founding member of La Quadrature du Net, managed to obtain access to the documents describing the objectives and means of the project.
Read his analysis here: https://www.laquadrature.net/fr/surveillance_big_data_marseille (in French)

Mobile Phone Operators: What Do They really Know?

Mobile phone operators collect a huge amount of personal data (metadata from our voice or text conversations, localisation, etc.). But which ones precisely? Are they ready to reveal and acknowledge the true extent of their databases? For the record, four members of La Quadrature du Net asked their own mobile operators (Orange, Free Mobile, Bouygues Telecom et SFR) access, authorised by law, to mail them the personal data held by their telephone providers. Three months later, the four operators had not given a satisfactory response. But the next step had already been planned: four cases have been filed against them with the CNIL, the French data protection authority. We're waiting now for the replies...
Read the whole story here: https://www.laquadrature.net/fr/conservation_operateurs (in French)

Litigations

When a law is voted, you can still change it: but you have to plead before the Constitutional Council–and win... This is the purpose of the Exégètes amateurs, an informal group of law experts from La Quadrature du Net, FDN and FFDN. But last winter, two of their actions were rejected by the French constitutional court.
First, on 2 February, the "Chambord" action: the point was to give back to every citizen the right to take a picture of a public monument and share it freely. Unfortunately, The Constitutional Council confirmed the "right to the image" granted in 2016 to the administrators of such monuments. Lionel Maurel, active member of SavoirsCom1 and founding member of La Quadrature du Net, analyses the consequences of this decision (FR).
On 4 March, the Council rejected a recourse intending to contest the obligation that a person placed in custody give the encryption key of their mobile phone to the police. The decision comes with a few conditions (such as the prior approval of a civil or criminal judge), but we explain why it is still a disappointment (FR).

Fake news, phony debate

Emmanuel Macron wants to forbid "fake news", and other types of online media manipulations that were popularised during the American presidential campaign won by Donald Trump. The European Commission also wonders if it can legislate on the matter: La Quadrature du Net answered the European consultation. The answer is no, "fake news" are a phony debate, the real problem is the click-bait favoring business model of platforms and social neworks.
Read the extensive answer here : https://www.laquadrature.net/en/node/10435

Rubrique

Pour vous inscrire à la newsletter, envoyez un email à actu-subscribe@laquadrature.net

Pour vous désinscrire, envoyez un email à actu-unsubscribe@laquadrature.net
This year, La Quadrature du Net celebrates its tenth year anniversary. It has been a long road since March 2008, where in the face of a disturbing wave of repressive policies, five activists –  Christophe Espern, Jérémie Zimmermann, Philippe Aigrain, Gérald Sedrati-Dinet and Benjamin Sonntag, who had met during the fight against the DADVSI law and software patents and for the promotion of commons – decided to create a collective to carry the values of the Free Internet against repeated mercantile and securitarian threats.
La Quadrature has since had its share of successes. It has become an important defender of fundamental rights in the digital era, both at a French and International level. Along the way, it has developed strong and productive ties with many activists groups and individuals.
But in ten years, a lot of things have changed, whether it is the internal organization of what has now became a registered non-profit association, or its environment. Today, we want to learn from our mistakes and reflect on our methods and modes of operation. This is the main goal of this document, which is the result of internal exchanges and discussions: to offer a critical assessment of where we are now, and using this diagnosis as a starting point, draw some paths for the future, which will need to be discussed and specified in the coming months.
This road-map consists of three parts:
Identity: we want to clarify and explain what La Quadrature du Net is, what is its purpose, what it wants to embody and how it wishes to do so.
Governance: we want to recognize and officialize that the circle of those participating in LQDN and to its actions has grown.
Core tasks: we need to question our approach to legal analysis and political advocacy, but also think about the best ways to work towards "digital empowerment."
1. Identity: what La Quadrature du Net is
In ten years, the context surrounding La Quadrature has changed profoundly. In particular, it has been marked by an acceleration of security-obssessed policies and a tightening of the democratic space surrounding public institutions and the public sphere in general. A political trend doubled by the expansion of technocratic computing and the further hybridization of states and large corporations in the process. This movement can be observed in the proliferation of mass surveillance (private as well as public) and extrajudicial censorship, criminalization of sharing, and more generally, in the further centralization and commodification of the digital infrastructure.
Fortunately, the alternative, free and decentralized Internet holds its flag. A dense milieu of digital activism and progressively resurfaced in France. From Framasoft to April, including FDN Federation, Nos Oignons, even small companies and a lot of groups are working relentlessly in collaboration with other organisations throughout the world to help networked computing be a tool for emancipation rather than social control.
In this French digital activism fabric, La Quadrature du Net followed in the wake of pioneer organizations such as the Association des utilisateurs d'Internet or IRIS (Imaginons un Réseau Internet Solidaire), who since the nineties had specialized in defending fundamental rights on the Internet. As such, and particularly on the occasion of battles against security laws that were adopted since 2013, it has established numerous links with other organisazations for the defense of human rights, as did its partners of the Observatoire des Libertés et du Numérique (OLN) such as Amnesty International France, the CECIL, the Creis-Terminal, the League of Human Rights, a Lawyers Union (Syndicat des avocats de France) and a Judges Union (Syndicat de la magistrature).
At the international level, its expertise and its analysis are acknowledged and appreciated by many organizations of the digital activism, like the Electronic Frontier Foundation, but also big NGOs such as Human Rights Watch and also some international organisations dedicated to the defense of fundamental rights (UNO, Council of Europe).
In this activist scene, LQDN stands at a key position, at the interface of a Free Software movement, inspired by the emancipating ethic of hackers and other pioneers of the Free Internet, and human rights organizations, whether they are French or not. Its is that it is a French organization that works for the construction and the political and legal defense of the Free Internet, and more generally of the fundamental rights at the digital age.
From there, some important details about how it works are necessary. Firstly, La Quadrature acts in three ways:
By producing and submitting to the public debate analysis of the political and legal stakes of our computerized world, and about its possible futures ("doctrine"). It prefers to do it as far as possible by anticipating rather than by reacting, and this, in order to draw an alternative trajectory to the technocratic hegemony promoted by the alliance of states and the big multinational companies of the digital industry.
Then by engaging in political and legal advocacy to bring this analysis in front of those who are in position of power ("advocacy"). In addition to the parliamentarians, the courts, the governments, the European Commission, or independent administrative authorities, we want to convey these advocacy strategies to everybody, to encourage their appropriations by others, be they organizations or citizen groups.
By raising awareness and by training various groups and individuals, as a way of promoting our vision of the digital and the practices that ensue, of enriching them thanks to the expertise of of all, and in this way spread them across society ("popular education"). This is, for example, to ensure that our allies in the activist world are able to grasp some tools and develop methods that emancipate them from the surveillance and censorship. This is also a way ensure that as many people as possible can understand the political stakes surrounding computers and use them in a reasoned way.
But what else? Once we have listed all these big action streams, some principles can define our "style":
First of all, we wish to engage in activism with joy, the pleasure of encounters, the sharing of experience, solidarity and humor. The state of the world is what it is, but it is a way to protect ourselves from it, and act best to transform it.
We also wish to diversify our modes of expression and our formats, from the deepest legal analysis to the most poetic artistic intervention. This implies (we will come back to this) the diversification of the profiles of those who take part to the organization.
We want to act in exchange with other collectives that share with us the same values. These last years, we have started a fertile dialog with communities, some of whcih may seem quite remote from the cause of the Free Internet: organizations working for the social and environmental justice, the rights of the migrants, the fight against racism et sexism, etc. While keeping our specificity, we want to pursue and deepen these exchanges and work at our scale to enact activist convergences.
If we admit having privileged friends and allies, and if we do not compromise about our values, nevertheless we stay non-partisan, and are able to dialogue with anyone, including our opponents who, in some circumstances, can become allies.
Lastly; if we allow ourselves the freedom to defend or work actively with those that share our values, we remain deeply attached to the principle that the Rule of Law applies to all, including those with whom we are in radical opposition (for example, we consider thate extra-judicial censorship does not become more acceptable in its principle when applied to hate speech).
2. Governance of the organization
Withing ten years and especially over the last four years, La Quadrature has evolved a lot. It has move from being a de facto organization without real funding source to a "Loi de 1901" association now hiring 6 full-time staff members with an annual budget of 350,000 to 400,000 euros. Besides, it has become a recognized player to debate on the freedom at the digital era and receives many external requests (for public interventions for example, while creating strong expectrations (especially to take a stance on many concerns surrounding the digital world).
For a long time, the founding members of La Quadrature have admitted a rather vertical governance. The organization was applying in detail the political lines and positions that made consensus among themselves. The stance of the "five guys in a garage" was that if for such and such reason, the people that followed LQDN were to disagree with its orientations, they could just build their own organization. We did not claim to be representative, despite the fact that our group had come to concentrate a certain visibility and expectations.
In this vertical configuration which had its initial relevance and justifications, even the paid staff often found itself in a situation where they had to wait for instructions coming from a small Administration Board comprised of volunteers, which at time found itself unable to fulfill all of its duties. Similarly, betweenthe paid staff and volunteer activists, some verticality was progressively established. Due to a lack of space that would allow for a better participation of these supporters to define priorities and actions of the organization, most of the time it came down to having them relay and take part into actions built without them. Admittedly, "work[ing] groups" and Quadrapéros (community events) did provide a space for some exchange and emulation, but never to the point of overcoming that verticality.
This tightening of organization's governance to a handful of founding members and a small paid staff might have given some of our close supporters an impression of close-mindedness and a lack of transparency. It also concentrated a lot of pressure, stress and expectations onto the small paid staff group. Finally, despite some efforts, LQDN is still lacking diversity: it's still mostly composed of males, white people and very Parisian-centered despite some attempts to decentralize it.
It's now time to endorse the enlargment of La Quadrature. We want the long time volunteers and activists that work with us and trusted newcomers to be aknowledged as plain members of La Quadrature and give them the possibility to grow alongside us as activists. This enlargement will be done by co-optation ; the founding members and the paid staff have offered to a first group of about twenty people to join us to participate more fully to the life of the organization, to design and join its actions, with some guidelines in mind on how to proceed with this expansion of our membership:
help to enact this strategic review and the renewal of our action;
open up to new forms of expertise and activist trajectories;
build our presence across the French territory, with members able to act as local relays for the organization;
foster our ties with sister-organizations with which we want to collaborate more in the future.
Founding members and LQDN's board will remain responsible for political line, in relation with paid staff to have the final word. But strategic thinking and LQDN actions will be produced and applied with this enlarged membership, which will grow bigger in the future to include new contributors among which new board members might be picked.
Every of these members will make their contribution to the collective work by offering analyzes and organizing actions, taking part in campaigns, playing a part in the organization's internal life, or any other initiative that would be part of the missions and tasks of LDQN and which they would like to be in charge of. La Quadrature will become the addition of these commitments which the website will be able to relay and which will to benefit from the resources of the organization. No need to say that in addition to the actual members, any person who would like to submit an action or join current initiatives, of course, will remain welcome.
This enlarged Quadrature will try to release control over public expression. Every member will be able to publicly speak on their expertise topics, specially in the media, and as such will play a role in the transmission and representation of the organization. The next version of our website will include a space where any member will be able to share a personal opinion that will not engage the organisation in its entirety but will submit their contributions and analysis to the debate. By doing so, we intend to promote an open debate between activists and make disagreements inside our circles more visible to a wider audience.  Other formats will be reserved to the expression of official and consensual positions of the organization, under the responsibility of the Board and the staff.
The latter will play a coordination and facilitation role for these volunteers commitments. It will make sure to structure this collective work in order to make it as useful as possible to the missions of La Quadrature, to give it consistency and to maximize its impact. But, obviously, it cannot do everything, and it will have to be able to fully focus on the few priorities of the organization that need a daily monitoring and the building of a long term expertise. At least once a year, the General Assembly of La Quadrature will gather all members for a moment of meeting, reflection and debate.
3. Core tasks: policy advocacy, legal defense and digital empowerement
In 2016, La Quadrature announced a strategic reorientation:  doing less policy advocacy at the French level to spare time for entering action modes aimed at citizen empowerment (conferences and debates, workshops, etc.). Now, this vision is still relevant but we didn't managed to put it into actual practice, due to the lack of a clear method to do so. We decided that we needed to mobilize ourselves on new repressive bills while adopting the same type of strategy: deep legal analysis of texts, meeting with parliamentarians and amendment proposals. With, eventually, mixed results (the Bills were passed) and the feeling that we only had bad and demobilizing news to announce.
In legal action too, we need to be able to value alternative proposals and to contribute to the building of emancipated digital spaces where they will be applied. Indeed, in our activist circles, some of the builders of a Free and decentralized Internet need legal advice to help them defending our values, for instance on topics like data retention. We have to help them reduce the legal risks for their activities, and ensure that they will be able to rely upon dense solidarity networks if things go wrong. We also need to intervene in a more systematic way in legal doctrine debates to promote interpretations of the laws that are favorable to human rights. In this way, we will be able to promote our values more efficiently than by exhausting ourselves on already lost battles at the French or European parliaments.
Both of these remarks invite us to adopt some basic principles allowing us to diversify our intervention modes in the legal field:
First, spare our efforts in the field of policy advocacy, or rather, manage to make a step aside that will allow us to intervene more efficiently in these debates. Regarding the method, it will be a matter of systematizing a political diagnosis of a proposed legislation on which we intend to mobilize, and this as soon as it arises. Faced with a bill or directive proposal, we will have to assess the political stakes and lucidly ask ourselves whether to go or not, and with which tactics. Do we attempt to advocate classically with members of Parliament? If we anticipate closed doors, what other influence or action modes can we resort to? Such an exercise will allow us to rationalize our actions, to spare our resources in order to reinvest them in other formats whose need is more and more noticeable.
In addition to policy-makers, we need to promote a pro-digital rights undetstanding of Internet law, especially where ambiguities remain. For example, the non-profit Internet access providers of the FDN Federation are questionning their practices in the field of data retention after having taken into account the Digital Rights and Tele2 decisions of the European Court of Justice. We must be able to present our analysis of the case at hand and to work to facilitate the appropriation by everyone of these legal debates.
We also need togive a new dimension to our doctrinal influence. La Quadrature is often asked to intervene in legal colloquiums, or contribute articles for law reviews. It works hard to respond to these demands, but it is difficult to respond to all of them and seize all of these opportunities to talk with lawyers, judges and legal scholars and make them understand our stance. Thanks to the enlargment of the organization, we will be able to diversify our expertise and multiply such interventions.
An other issue we noticed in our advocacy and legal defense strategies is also that, while security policies in the digital field have become parts of institutional practices, we have not been able to mobilize beyond parliamentary debates or  litigation. We remain stuck to an often abstract speech about the Rule of Law, pointing at the risks of a given legal provisions or policies. But the latter lead to the unjust and dangerous repression of individuals or categories of persons. These actual instance of repression can allow us to embody these drifts, raise consciousness about the violence of power practices, and embody unjustice much better than a soothing press release on the "threat to fundamentals rights" would. In short, we must reinvest these cases, document them, and articulate them where this is possible and relevant to our advocacy and litigation strategies. 
Finally, we must address a last central point in the core tasks of LDQN: the tools and the digital empowerement. Since its beginning, La Quadrature has always attempted to develop tools, such as Memopol or PiPhone, that would facilitate the involvementof all in its campaigns. However, to achieve the development of these ambitious tools, resources were lacking, as well as the ex post analysis of their actual result. And even when this work was done, it was just hard to maintain these efforts for a long time with only one paid computer scientist and a rather limited community of volunteers. If these initiatives were justified and often fruitful, it is now the time to rethink the way we mobilize the technical expertise of those involved in our battles.
All this will of course be to discussed with other actors of digital activism. But it seems that alongside actors like Framasoft, the  FDN Federation, Nos Onions and even collectives with worldwide reputation like Rise Up and others we can play a specific role, precisely because of our key position between the "Free Software" circles and other activist sectors at the French level. We are not necessarily intended to become service providers, especially because many are already doing so and that would require adapting our governance structures to give the voice to the users of these services. On the other hand, we can participate in assisting such projects, help bring together activists from various political causes and the builders of the Free Internet, users and developers – as in the early days of digital activism French when initiatives such as R@S contributed to the convergence of struggles through the provision of a shared digital infrastructure, in addition to allowing a collective reflection on activist uses of the Internet.
Thanks to its many members and contributors, LQDN can also raise awareness of the dangers of certain dominant or emerging services by documenting their practices (e.g. data collection and sharing with third parties). These are just few leads that will need to be discussed and refined with our friends from the Free Internet in the coming months.
Here is the outline of where we want to take La Quadrature in the coming months and years. These reaffirmed strategic priorities thus articulate a major change in the history of our organization, namely the enlargment of its "first circle", or rather its full recognition. We want to give breath back to our collective and better serve the cause of a free and empowering Internet. While waiting to refine these guidelines with all those who would like to accept the proposal to join us, your comments are welcome!